Cast in lightweight metal with an antique finish, the skull image on our
Bad to the Bone Dog ID Tag
is lots of fun and a must have if your pup, on occasion, has a tendency to go to the naughty side. In Small, Medium or Large and in two colors: antique Silver Tone or Bronze. BAD TO THE BONE ID TAG, any size $15.00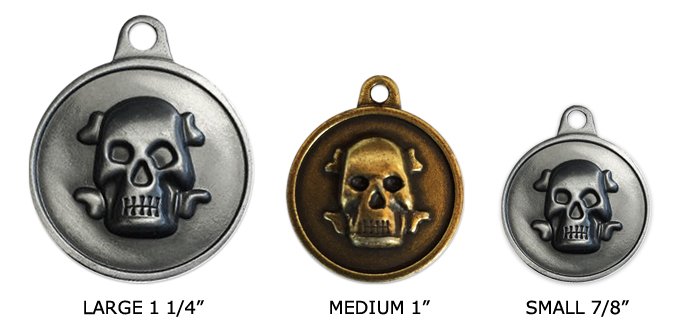 Please observe engraving guidelines below when ordering your tag.

Purchase price includes engraving and split ring.
Engraving Guidelines:
A space counts as a character
Small Tag (7/8" wide): One Name, One Phone Number ONLY!
Medium Tag (1" wide): 3 lines, 8 characters per line
Large Tag (1 1/4" wide): 4 lines, 10 characters per line
Please enter and proof your engraving information carefully. All sales are final on personalized items.
THIS TAG WILL SHIP IN ABOUT TWO WEEKS FROM THE DTDT OFFICES.
Our HAPPINESS GUARANTEE:
If for any reason, your ID Tag does not perform to your satisfaction, we will joyfully replace it at no cost what so ever to you.