Now you AND your pet can promote awareness with these beautiful enameled ribbon tags. The manufacturer donates 10% of the purchase of the pink awareness tags to a breast cancer research program. Available in sizes Small, 1" diameter or Large, 1 3/16" diameter. Choose from Pink, Red or Yellow. $14.00 each 
Pink is for breast cancer, Red is for AIDS awareness and Yellow is for suicide awareness.

Purchase price includes engraving and split ring. Engraving is in CAPITAL letters.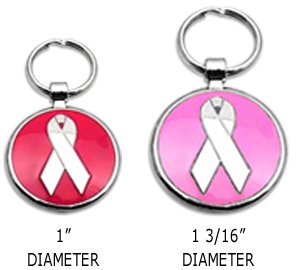 Please observe engraving guidelines below when ordering your tag. A word space counts as a character. 
Engraving Guidelines:
Line 1: 20 characters


Line 2:

 20 characters
Line 3: 22 characters
Line 4: 16 characters


Line 5:

 12 characters

Please enter and proof your engraving information carefully. All sales are final on personalized items. 
THIS TAG SHIPS DIRECTLY TO YOU FROM THE MANUFACTURER.
Manufacturers Lifetime Guarantee -
 Every pet tag we sell has a lifetime guarantee, and they will do what it takes to make you happy. 
DTDT HAPPINESS GUARANTEE: 
If for any reason, your ID Tag does not perform to your satisfaction, we will joyfully replace it at no cost what so ever to you.